Art Market Productions


In partnership with: Delta Sky Club, Windermere, Olson Kundig, AIG, OPEN EDITIONS
Artist Collaborator: teamLAB
 - 84 Exhibiting Galleries
The Seattle Art Fair is a one-of-a-kind destination for the best in modern and contemporary art and a showcase for the vibrant arts community of the Pacific Northwest.
Based in Seattle, a city as renowned for its natural beauty as its cultural landscape, the fair brings together the region's strong collector base; local, national, and international galleries; area museums and institutions; and an array of innovative public programming. Founded in 2015 by Paul G. Allen.
THUNDERCLOUD: WINDERMERE VIP LOUNGE
In Partnership with Olson Kundig
Entitled Thundercloud, the design of the lounge blurred the physical boundaries between indoor and outdoor, while exploring the interplay of static and dynamic elements. Upon entering the lounge, guests were transported from the bustling fair to spaces for gathering, dining, lounging, reflecting and recharging. Towering, dark fabric created a static backdrop, while projections, shadows, and color on lighter materials were dynamic and transformed throughout the day
Visitors observe the power of their creative imagination through Sketch Aquarium. Each participant is invited to color a drawing of a sea creature of his or her preference. Once completed, visitors will be able to see their creation come to life in a giant aquarium and swim with all of the other sea creatures. Visitors may also touch the fish to see them swim away, or touch the virtual food bag to feed the fish.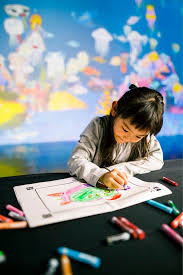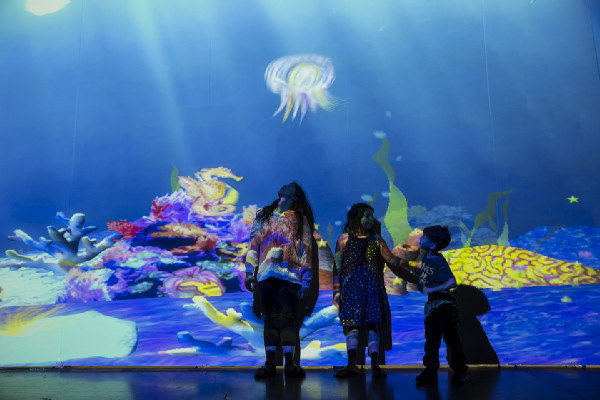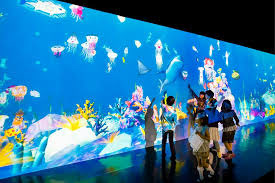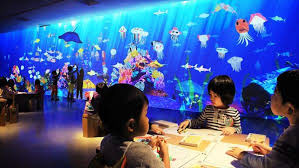 Delta SKY360 club lounge // collaboration with OPEN EDITIONS